2022 Jeep Wrangler Trims & Packages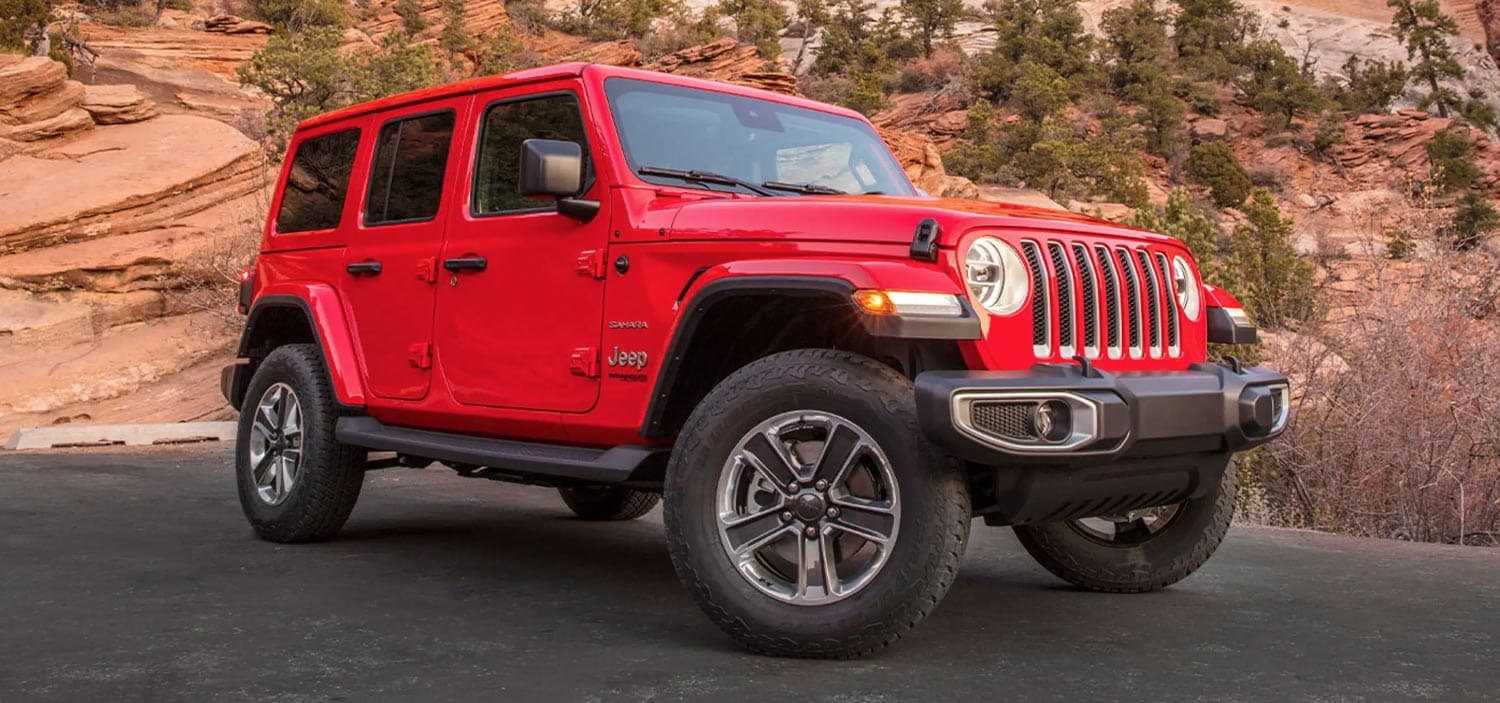 With so many different Jeep Wrangler trims and packages it can be a little overwhelming trying to figure out which one is right for you. We completely understand, and that's why we came up with this guide to walk you through the highlights of each Wrangler trim package.
2022 Jeep Wrangler Trims
Jeep Wrangler is well-known for its wide array of trim options, and they didn't stray from that mantra for their 2022 line. There are 12 different trim options and packages for the 2022 Jeep Wrangler, and we'll go over the highlights of each one for you here.
Unlimited Sport 4X4
The Unlimited Sport is essentially the base model for the Wrangler, but because of their off-road nature, they don't have a real "base" model. It still features a 4X4 drivetrain and a towing capacity of 3,500 pounds.
You can also upgrade to a diesel engine, heated side mirrors, and many other features. Finally, Apple CarPlay and Android Auto come standard with this trim level too.
Unlimited Willys Sport 4X4
While many vehicles run their trims as an upgrade as you go up, the Sport and Willys trim packages run parallel to each other. One's not really above or below the other - they just offer different features.
There are plenty of aesthetic decals and badge differences between the two, but you also can upgrade to get performance brakes with the Willys Sport that aren't available with the regular Sport.
You can also upgrade to a 35" tire package with the Willys Sport. In short, the actual performance specs are pretty similar, but the Willys Sport is geared more towards those looking to head off-road with their Jeep.
Unlimited Sport S 4X4
The Unlimited Sport S is a clear upgrade from the regular Sport. It comes with everything the Sport comes with and then some extras.
Those extras include an available 4G LTE Wi-Fi hotspot, a USB charging port, available heated front seats, and all-terrain tires instead of the all-season tires that come with the regular Sport.
You also get automatic headlamps,
Unlimited Willys 4X4
Just like the Sport S is a direct upgrade over the regular Sport, the Willys is an upgraded trim package over the Willys Sport. Many of the same features that the Sport S upgrades are what the Willys upgrades too.
Features like automatic headlamps, LED fog lamps, and LED reflector headlamps all come standard with the Willys 4X4. Heated front seats and 4G LTE Wi-Fi capabilities are also available add-ons at this trim level.
Unlimited Sport Altitude 4X4
The Unlimited Sport Altitude is everything that the Sport S is and then some. The most notable upgrade that comes with the Sport Altitude has to be the 18" wheels. But while that's the most notable upgrade, that's not all you're getting.
Other included features with the Sport Altitude 4X4 include a leather-wrapped steering wheel and tons of available features like blind spot and full-speed forward collision warning.
Unlimited Rubicon 4X4
When you're talking about Jeeps you can't go far without hearing about the Rubicon. But what exactly does this trim package offer? Well, the Rubicon is a direct upgrade over the Willys. Upgraded features include an upgraded interior - with the option to go with leather-trimmed seats.
It's also the first Jeep trim package to have a standard 8.4" display instead of the 7" display. Other features that go from optional to standard include the 4G LTE Wi-Fi system, 5-year SiriusXM traffic service, and emergency assistance and calling.
Unlimited Sahara 4X4
When you're talking about the Unlimited Sahara 4X4, you're talking about a premium Wrangler with tons of features. You get standard ambient LED interior lighting, halogen headlamps, 18" wheels, an 8.4" infotainment display, 4G Wi-Fi, emergency calling, and an upgraded Alpine Premium Audio System all standard.
While the Sahara is certainly capable of taking tons of trips off the open road, you'll certainly enjoy modern comforts if you're using it as your daily driver too.
Unlimited Sport RHD
With the Sport RHD you don't have to dive too far into things to see the big differences with this trim level.
While every other Wrangler so far has come with an option to upgrade to a diesel engine, the Sport RHD only comes with the 2.0L diesel. It's also your first option to get a Wrangler with an automatic transmission.
Unlimited Sahara Altitude 4X4
The Sahara Altitude 4X4 is where the Sahara and Altitude trim packages merge into one. Not only do you get a top-notch Wrangler for daily driver applications, but you also get all the off-road performance features.
It comes with 18" wheels, leather-trimmed bucket seats, an 8.4" infotainment screen, 4G LTE Wi-Fi, USB charging, an Alpine audio system, GPS navigation, and so much more.
Unlimited High Tide 4X4
The most notable difference between the Sahara Altitude and the High Tide is the transmission. While the Sahara Altitude still uses a 6-speed manual, the High Tide has an 8-speed automatic. You also get performance brakes standard with the High Tide.
However, you don't get as many color options and you're back to the 17" wheels and the 7" infotainment system with the High Tide.
Unlimited High Altitude 4X4
The Unlimited High Altitude isn't the Rubicon 392, but it's the closest thing you can get to a full-loaded Wrangler without upgrading the entire engine. It comes standard with an 8-speed automatic transmission, LED tail lamps, and leather-trimmed bucket seats.
It's a premium Wrangler and it feels like it. But while it's all about luxury, it still has that signature Wrangler ruggedness that lets you feel good about taking it off-road.
Unlimited Rubicon 392
If you're looking for a fully-loaded Wrangler, there's no doubt that it's the Rubicon 392. It's the only option with a V8 engine instead of a diesel or a V6, and just about every feature that's an option with other Jeep trim levels comes standard with the Rubicon 392.
Features like LED tail lamps, a steel front bumper, leather-trimmed bucket seats, heated front seats, and air conditioning with automatic temperature control all come standard.