Jeep Wrangler and Jeep Gladiator Freedom Editions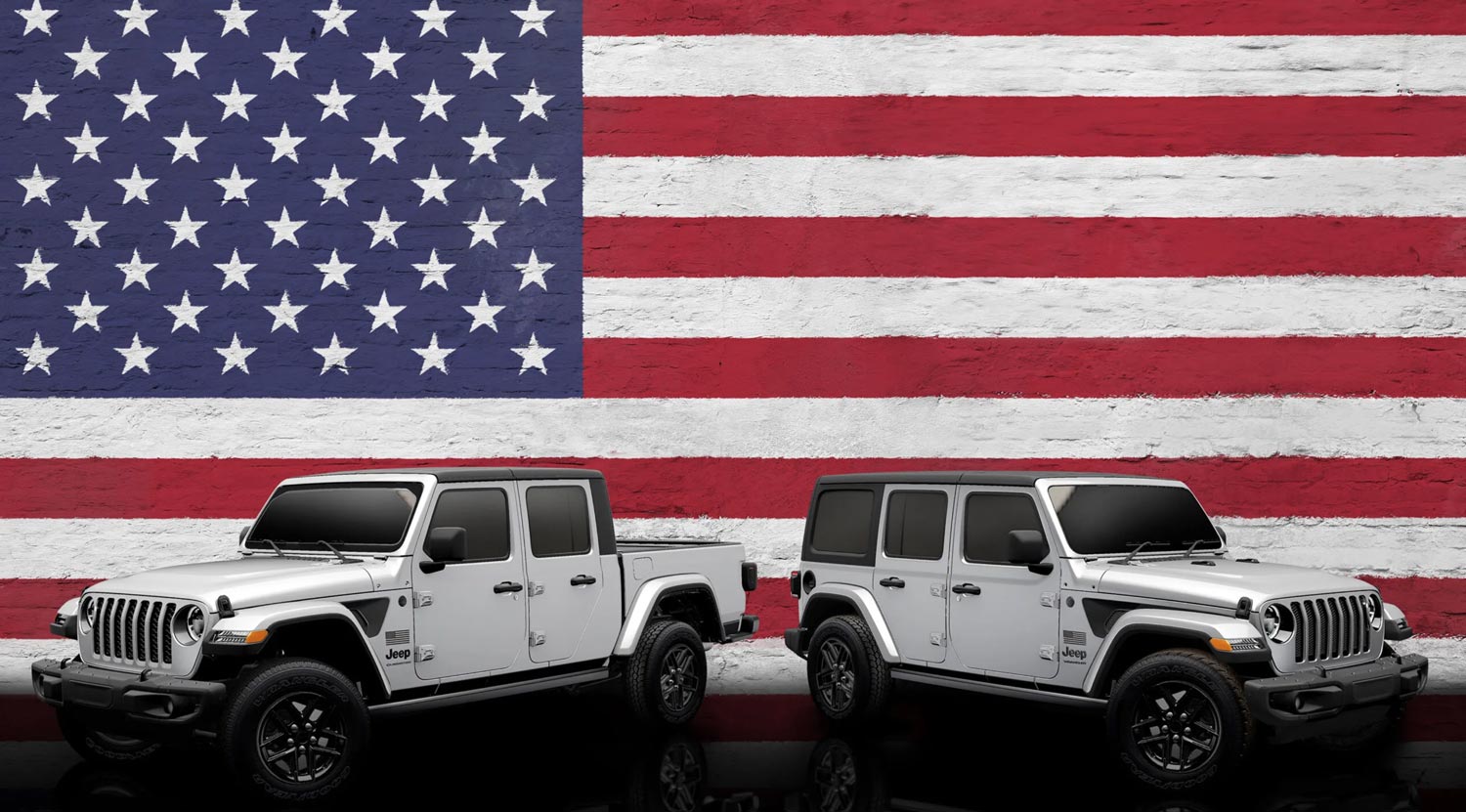 Jeep has military roots, so it makes sense that the automaker would want to honor its history by also honoring the service members of this country. With the Freedom editions of the Jeep Wrangler and Jeep Gladiator, it does just that in its own way. 
The special package adds some military-themed styling elements and some other features, giving Jeep fans something special for their Wrangler or Gladiator. Here's a look at what the Freedom package offers on these two popular Jeep models: 
Design Details
The Freedom package adds some design details inspired by military vehicles. Body colored fender flares are added to the exterior, as are glossy black wheels. American flag decals are placed on the side panels, just ahead of the doors. "Oscar Mike" decals are placed on the tailgate or swing gate, which stand for "on the move." 
Inside, the Freedom package adds leather-trimmed cloth upholstery with black stitching. 
Taken together, these changes give the Wrangler and Gladiator Freedom editions a stylish edge that sets them apart from others in the lineup. 
Performance Upgrades
The Freedom package adds a few performance upgrades, as well. The front bumper is revised to make it capable of supporting a wench, which also provides more options when exploring off road. Steel rock rails also provide more stability when exploring over rocky terrain and through harsh conditions. 
The LED headlamp and fog lamp group improves visibility for all conditions, allowing drivers to go on adventures in all climates at all times of year. 
Again, these are minor changes, but they make an impact for those who really enjoy off-roading and taking time off for adventures.
Other Features
Both the Wrangler and Gladiator Freedom editions also come with three years of Jeep's Wave customer service program. The program provides participants scheduled maintenance, roadside assistance 24 hours a day seven days a week, and coverage for a loaner vehicle for one day. The program helps drivers save on maintenance and ensures that they have emergency assistance when they need it. The program also provides VIP access to special Jeep events.
Bonus Perks
Because the Freedom edition pays homage to the military, it also offers some perks for the military and its personnel. For every Freedom edition that is purchased, Jeep will be donating $250 to military charities (it hasn't provided a specific list). In addition, Jeep is offering a $500 military cash bonus to any retired military service members who buy the Freedom edition. 
Visit Bournival Jeep to Explore the All-New Jeep Wrangler and Gladiator Freedom Editions
Bournival Jeep proudly offers Wrangler and Gladiator models. Visit us today to explore all that these new models have to offer, including the features offered on the Freedom package. Our friendly and knowledgeable associates will help you create the perfect configuration to meet your needs, and our finance specialists will help you find the right terms to fit your budget. Visit us today to take a test drive and find your perfect Wrangler or Gladiator.