2022 Jeep Cherokee Trims & Packages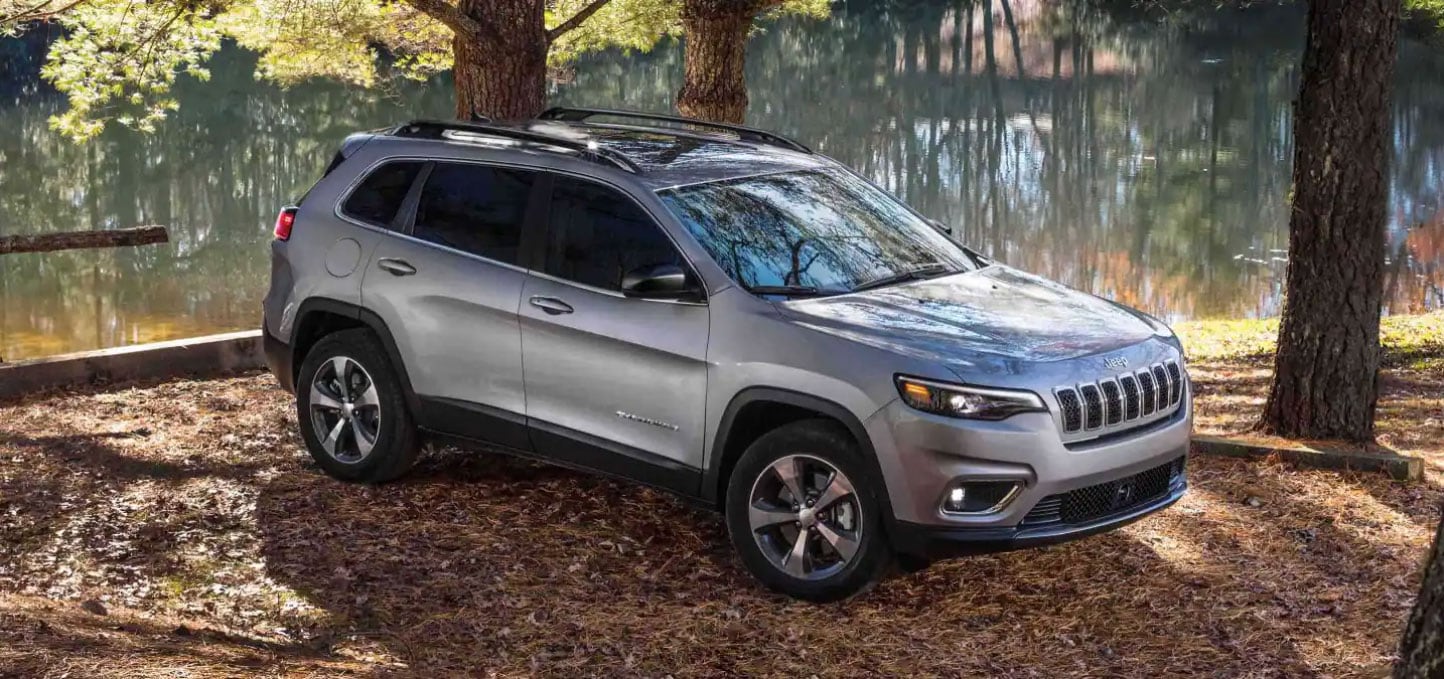 There's no doubt that the Jeep Cherokee is one of the most popular and iconic vehicles on the road today. While it doesn't have quite the same signature appearance as the Wrangler, it does offer a bit more space and comfort.
But just because you know you want a Jeep Cherokee doesn't mean you don't have to make any more decisions. You still need to pick out the trim level and packages you want, that way your new Jeep Cherokee comes with everything you want.
It's a big decision, and it's why we took the time to highlight some of the most important differences between each trim level and package available for you here.
2022 Jeep Cherokee Trims
While some Jeep vehicles have dozens of trim levels for you to sort through, the Jeep Cherokee is a bit simpler with four. But while there are "only" four trim levels for you to pick from, you still need to know what each one offers so you don't expect features yours doesn't have.
Because unlike many vehicles where the higher the trim level the better, with the 2022 Jeep Cherokee the right trim level for you all comes down to what you're looking for and how and where you plan on driving it!
Latitude Lux
Both the Latitude Lux and the X are base-level 2022 Jeep Cherokees, but both still have tons of features we're sure you'll love. The Latitude Lux is a little less for the off-road enthusiast, as it drops some of the X's features in favor of a more upscale interior.
It's the only Jeep Cherokee that offers an option with front-wheel drive, but you can upgrade to a four-wheel drive version. The interior features power front seats with Lumbar support and Nappa leather-trimmed seating.
Moreover, it has heated front seats, an automatic dimming rearview mirror, a 120-volt power outlet, front and rear USB ports, 4G LTE WiFi, Apple CarPlay, AndroidAuto and more.
Performance-wise it comes with a 3.2L Pentastar V6 that pushes 271 horsepower, which is the same engine and performance specs the Cherokee X comes with. However, while the 3.2L Pentastar V6 is standard, you can choose to go with a 2.0L turbocharged engine that pushes 270 horsepower.
The horsepower numbers between the two engines are similar, but the 2.0L engine provides a bit more torque at 295 ft-lb compared to the Pentastar's 239 lb-ft.
X
The X trim level is essentially another base-level trim level for the Cherokee that runs side-by-side with the Latitude Lux. This trim level ditches the Nappa-trimmed seats, rear USB ports, automatic-dimming rearview mirror and more.
But while those advanced interior features are gone, the X comes with more standard off-road features. For starters, four-wheel drive is standard with this trim level. Not only that, but there's an upgraded off-road suspension system, multiple driving modes you can cycle through, and upgraded all-terrain tires.
But while there's no denying the X doesn't come with as many interior features as the Latitude Lux, that doesn't mean it doesn't have plenty of nice interior features. It comes with two front USB ports, Apple CarPlay, Android Auto, and 12-volt power outlets.
Trailhawk
If you're serious about taking your 2022 Jeep Cherokee off-road, then the Trailhawk is the trim level for you. It's the only trim level that offers Jeep's Active Drive Lock 4WD System, which allows you to lock the rear differential for even better off-road performance.
Other additional features you can find with the Trailhawk include larger 17" tires, additional skid plates, tow hooks, and an extra 1" in ride height for even more off-road ability.
And while the Limited and X trim levels offer a few different driving modes you can cycle through, the Trailhawk is the only trim level that offers a "rock" mode.
The Trailhawk is all about off-road performance, and if that's what you want to do with your Cherokee you're not going to find a better trim level for you.
Limited
If you're looking for a Jeep Cherokee that gives you all the premium and luxury features you can think of, then the Limited is the trim level for you. There are tons of top-notch luxury and technological features we're sure you'll love with this trim level.
These features include a premium nine-speaker sound system, a sunroof, leather upholstery, adaptive cruise control and so much more. One of the most surprising and helpful features you can find at this trim level is the automatic parking assist feature which can help you navigate in and out of some tight spaces.
Moreover, this trim level comes with larger 18" wheels, a power liftgate, and automatic high-beam highlights that you can't find at any other trim level.
There's also an available "Elite" package at this trim level that adds a bit more luxury throughout the entire vehicle. This package adds ventilated front seats and heated rear seats, which are features you can't find with any other 2022 Cherokee trim level or package.
Just know that while the Limited trim level is the "top" trim level for the 2022 Cherokee, it still doesn't have some of the off-road features you can find in the Trailhawk trim level. You lose the upgraded off-road suspension, the rock driving mode, and the extra 1" in ride height.
The Limited trim level is great, but it's better suited for the pavement than the trails. Just know what you're getting and which choice is better for your driving needs!
Final Thoughts
If you're ready to take the next step and get a 2022 Jeep Cherokee or you have a few questions you need answers to, the team at Bournival Jeep would love to help. They'll gladly walk you through everything you need to know about how to get behind the wheel of your own Cherokee and what trim level and package will work best for what you need.
It's a no-pressure experience that helps you find exactly what you're looking for, and it's why Bournival Jeep is your go-to Jeep destination.
View Jeep Cherokee Inventory