2022 Grand Cherokee Trims & Packages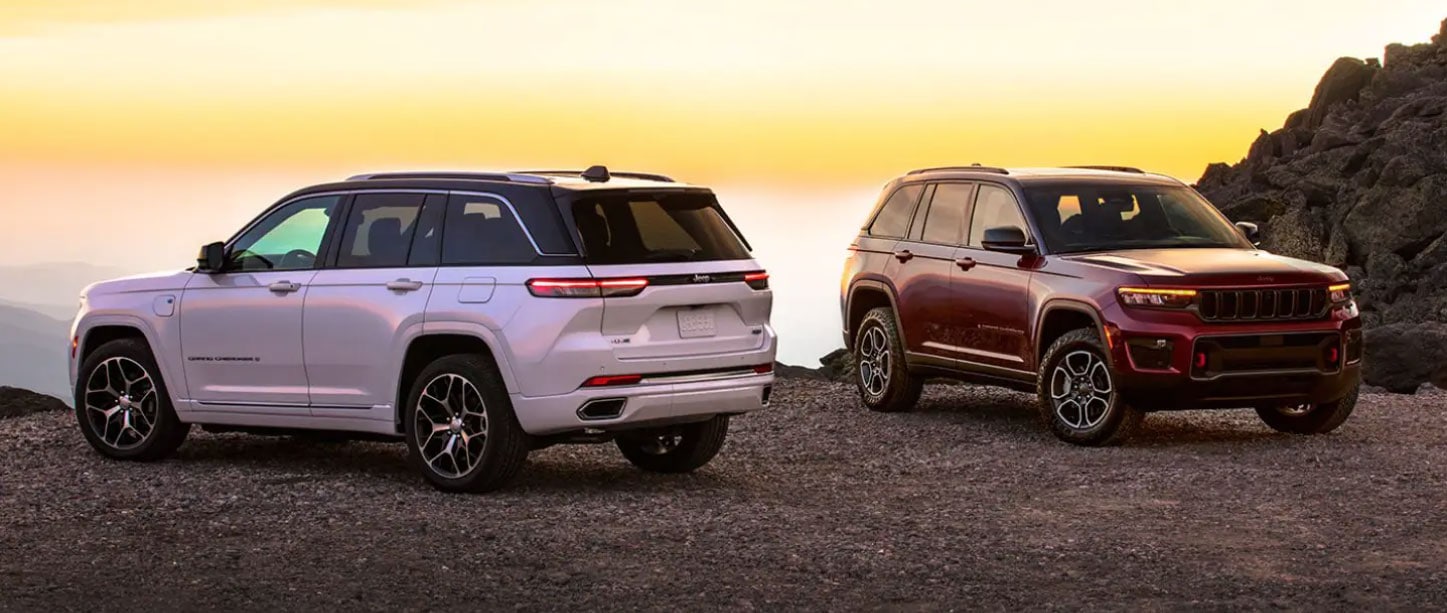 Jeep is well-known for having tons of trims and packages for you to choose from, and the 2022 Jeep Grand Cherokee is certainly no exception.
There are seven different trim levels and 13 different packages for you to pick from. While that puts the control in your hands, it also can be a little overwhelming. That's why we broke down everything you need to know for you here.
2022 Jeep Grand Cherokee Trim Levels
With seven different trim levels for you to choose from, there's no lack of options with the Jeep Grand Cherokee. This allows you to get everything you want without overspending for things you don't care about.
We've gone over each trim level you have to choose from here and broke down some of the highlights to help you choose.
Laredo
The Laredo is the base-level trim package for the Grand Cherokee, but it still comes with tons of great features that you'll love. It's available with both a 2-wheel-drive and a 4-wheel-drive system.
Standard features that come with the Grand Cherokee Laredo are adaptive cruise control, active lane management, automatic emergency braking, blind spot monitoring with rear cross-traffic detection, a rear backup camera, and rear parking assist.
That's a ton of standard safety features with the Jeep Grand Cherokee, and far more than you'd expect from most base model vehicles. Furthermore, like with every Jeep Grand Cherokee except the Trailhawk you get to decide whether you want two or three rows.
Finally, the Laredo comes standard with a 3.6L V6 engine that they pair with an 8-speed automatic transmission.
Altitude
The Grand Cherokee Altitude is one step up from the Laredo, and it comes with everything the Laredo has and then some. Since all the safety features come standard Jeep had to upgrade somewhere else, and they did that in the luxury department.
The Altitude comes with leather-trimmed heated front seats, a heated leather-wrapped steering wheel, and the 18" wheels increase to 20". Finally, you also get a wireless charging pad for your devices and you get a remote start system.
Limited
Moving up the trim level line the next step is the Limited. It comes with everything the Altitude has besides the 20" wheels. The entire interior features Capri leather, and now both the front and second-row seats have heated features.
You also get a premium six-speaker sound system with active noise cancellation and a power liftgate with an adjustable height setting. It's not a ton more, but what it does offer is extremely nice and it's a nominal price jump from the Altitude.
Trailhawk
The Trailhawks is a bit of an anomaly when it comes to placing it on the trim level list, but it features tons of things that make it an ideal off-road choice. For starters, it comes with a Quadra-Drive 4x4 drivetrain with air suspension, a sway bar disconnect, additional skid plates, tow hooks, and all-terrain 18" tires.
Other great features include the 9-speaker premium sound system and a single-pane sunroof. You can only get the Trailhawk in a 2-row setup and it only comes in four-wheel-drive, but it's the first trim package where you get to pick the engine.
The 3.6L V6 engine still comes standard, but you can upgrade to the 5.7L V8 HEMI if you want a little extra power under the hood and on the trail.
Overland
The Overland gets back on the "more regular" trim levels, but it does offer an available Quadra-Trac II 4x4 system with the Quadra-Lift suspension system.
However, the 20" wheels are back with the Overland, and there's a dual-pane panoramic sunroof, Nappa leather-trimmed interior and the front seats are ventilated. You are back to the 3.6L V6 engine without the ability to upgrade to the V8 HEMI though.
Summit
The Summit is one step down from the top trim level for the Grand Cherokee, and as such it has tons of features. It has everything the Overland has, and then it has even more.
Those additional features include even more advanced safety features like parallel and perpendicular park assists, intersection collision alerts, drowsy driver detection, traffic sign recognition, and a 360-degree surround-view camera.
Finally, it has a quad-zone climate control system, allowing everyone in the car to stay at the temperature that's perfect for them.
Summit Reserve
As the top trim level for the Jeep Grand Cherokee, there are quite a few things that the Summit Reserve offers. First, outside of the Trailhawk it's the only Grand Cherokee with an option to upgrade to the 5.7L V8 HEMI engine, although the 3.6L V6 still comes standard.
Other premium features you can get with the Summit Reserve are 21" tires, 16-way adjustable front seats with both memory and massage features. It also has a premium 19-speaker McIntosh audio system and Palmero leather seats for the ultimate luxury.
2022 Jeep Grand Cherokee Packages
Not only are there a ton of trim levels for you to choose from with the Grand Cherokee, but there are tons of available packages for each trim level too. We've highlighted each potential package you can purchase and the trim levels you can find those packages for.
Final Thoughts
Now that you know a little more about the Grand Cherokee, all that's left is for you to pick your trim level and any package you might want!
Are you interested in a Jeep Grand Cherokee or do you have a question that we didn't answer? The friendly experts at Bournival Jeep would love to help you out and answer any questions you may have. Not only that, but they'll help you get behind the wheel and test drive one for yourself so you can see exactly what the Grand Cherokee has to offer!