2022 Jeep Wagoneer Trims & Packages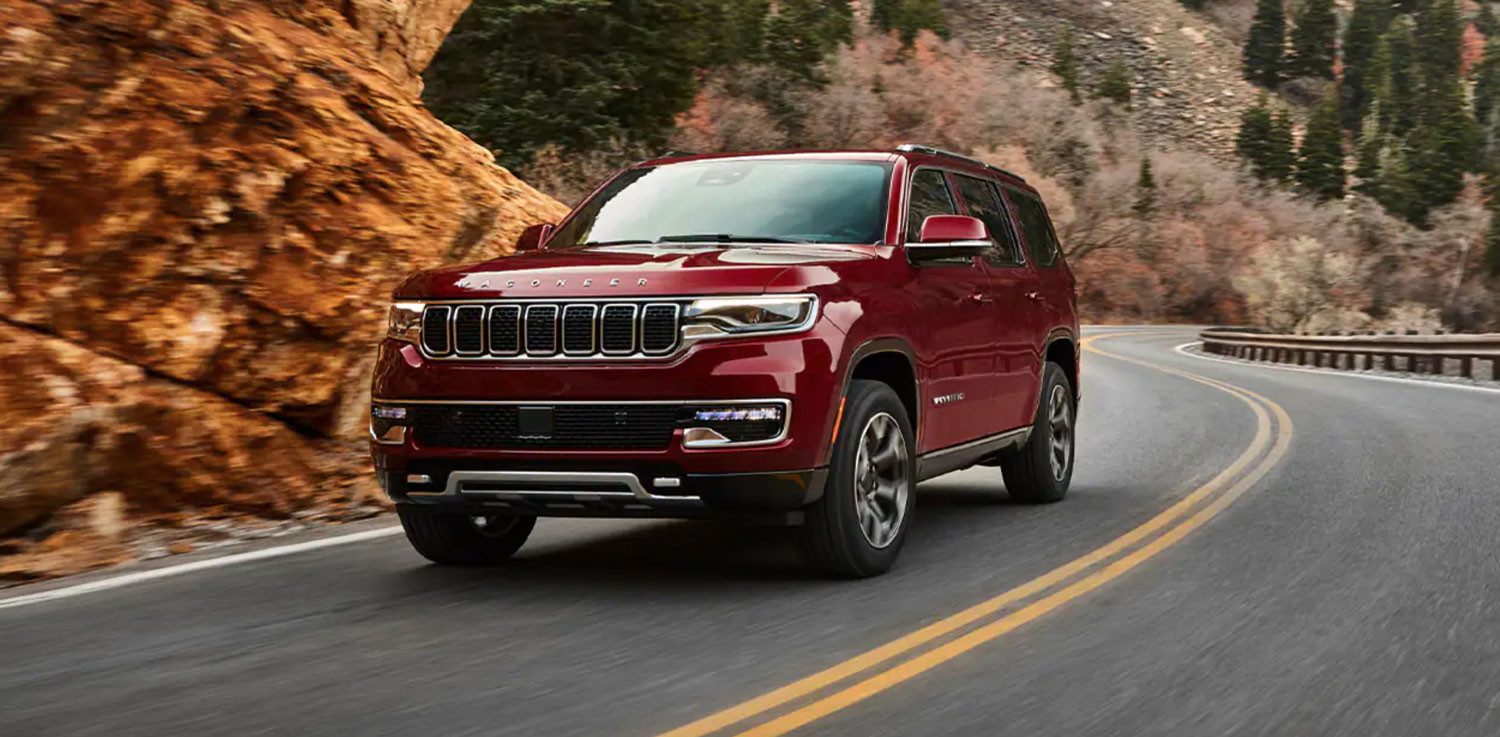 Sometimes you know what vehicle you want and all that's left is for you to pick what trim levels and options you want. But with so many great options out there it can be hard to figure out what you want.
You don't want to end up with a vehicle that doesn't have features you care about, but you also don't want to overpay for things you don't need. It's a lot to go through and there are a ton of choices, which is why we came up with this guide to break down everything you need to know.
2022 Jeep Wagoneer Trims
If you decide you want a Jeep Wagoneer, there are a few different trim options for you to choose from. We've highlighted all six for you here so you know exactly what each one comes with and which one is right for you.
Series I
The Series I Jeep Wagoneer is the base model Wagoneer, but it still comes with tons of features you'll love. It comes standard with a 5.7L V8 engine that pushes 392 horsepower, giving you a 10,000-pound towing capacity.
You also get a 9-speaker Alpine audio system, a 10.1" touch screen, 4G LTE Wi-Fi capabilities, front and rear USB ports, Android Auto, Apple CarPlay, and so much more.
You also get the ability to upgrade to get the panoramic sunroof and the 360-degree surround view camera without going up to the next trim level.
Series I Carbide
The Series I Carbide comes with everything the Series I comes with and then some. Not only are some of the optional features like the panoramic sunroof now standard with the Series I Carbide, but you also unlock a whole host of features you can't get with the regular Series I.
You get 22" wheels, adjustable roof rail crossbars, and black accents throughout. But one of the top features of the Series I Carbide is the Passenger Interactive Display. It's a touchscreen on the passenger side of the vehicle that lets them control everything in the vehicle without using the center console.
Series II
The Series II is a clear step up from the Series I, but it's not a clear jump up from the Series I Carbide. That's because while it has tons of extra features, you do lose some of the black accents and you go from 22" wheels to 20" wheels.
Still, the Series II is well worth the cost considering everything extra it comes with. You get a wireless charging pad for electronic devices, a larger passenger interactive display, adaptive cruise control, and a lane management system.
There are also options for an all-terrain package or second-row captain chairs if that's a feature you're interested in.
Series II Carbide
The Series II Carbide combines everything you get with the Series I Carbide and the Series II into one awesome package. The 22" wheels come back as do all the black accents throughout. You also get a tri-pane panoramic sunroof.
Series III
The Series III is another step up from the Series II, but it doesn't come with all the same accents as the Series II Carbide. It does keep the 22" wheels though.
Other great features it comes with that both the Series II and the Series II Carbide lack are an active heads-up display, drowsy driver detection, and an upgraded Quadra-Lift air suspension system.
It's also the first option that offers available power side steps and a locking in-vehicle safe. It's a great option with tons of fun features. One of the most notable upgrades is the available McIntosh Entertainment system. It comes with 19 speakers and a 12" dual voice coil subwoofer for the ultimate sound quality.
Series III Carbide
The top trim package available for the Wagoneer is the Series III Carbide. But it's worth noting that not every feature that comes with the Series III comes with the Series III Carbide, and not every feature on the Series III Carbide comes with the Series III.
This trim level comes with the panoramic sunroof, heated second-row seats, and accented stitching and grill textures, but it doesn't have the options for drowsy driver detection.
Still, there's no doubt that it's an excellent trim level with tons of great features you'll love.
Jeep Wagoneer Packages
While there are quite a few optional upgrades with the Jeep Wagoneer, there are really not a ton of "package" options. Instead, Jeep lets you add on exactly what you want without the need to add on and pay for things you really don't care about.
Each trim level comes with the ability to add four-wheel-drive, but there are also tons of add-on options depending on the trim level you go with.
But while most of the options are optional add-ons, one choice you have for a package is to go with the "Carbide Appearance Package." This package is available with every non-carbide trim level, and it adds on the accents that help make the Carbide trim levels look so good.
But no matter what trim level or package you go with, you're getting a great vehicle with even better performance specs. Each Jeep Wagoneer comes with a 5.7L V8 engine that pushes 392 horsepower, 404 lb-ft of torque, and can tow up to 10,000 pounds.
Final Thoughts
No matter what trim level you go with or what packages you choose, with the Jeep Wagoneer you're getting an outstanding vehicle that's great for families and off-road enthusiasts alike. It's convenience, luxury, and dependability all wrapped up into one great SUV.
Do you have any questions about the Jeep Wagoneer, or do you want to get behind the wheel of one for yourself? The friendly and knowledgeable team at Bournival Jeep would love to help you out.
Reach out today and they'll answer any questions you might have and walk you through everything you need to know to get behind the wheel of your very own Jeep Wagoneer.