2023 Jeep Wrangler Trims & Packages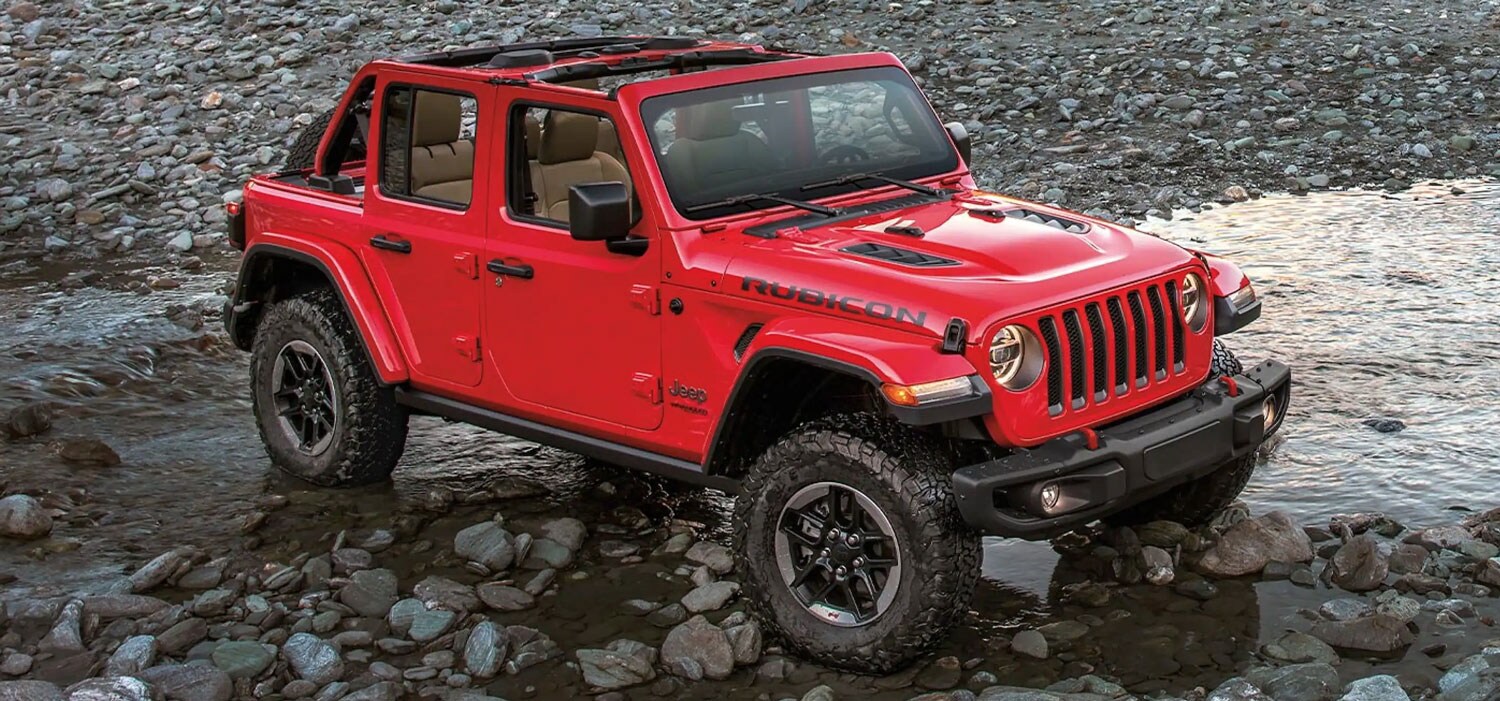 With the Jeep Wrangler it can be a little challenging trying to figure out exactly what trim levels and packages you want. There are just so many to choose from, and the last thing you want is to find out that another option was a better choice for you.
That's why we came up with this guide to walk you through some of the most important aspects of each trim level and help you decide which 2023 Jeep Wrangler is right for you.
2023 Jeep Wrangler Trims
With 12 different trim levels to choose from it can take a lot of work to figure out exactly which one you want. We showcased some of the highlights for each trim level here to help you decide.
Sport
The Sport is the base model package for the 2023 Jeep Wrangler, but it still comes with plenty of signature Jeep features that you'll love. You get a soft top, 17" wheels, a 7" touchscreen display, and tow hooks on the front and the rear.
It might not have the most comfort features compared to other Jeep options, but it's still a Jeep Wrangler through and through.
Willys Sport
If you're looking for a Jeep Wrangler that allows you to do a little more off-roading, then the Willys Sport is the way to go. It comes with a Trac-Lok limited-slip differential, 32" mud-terrain tires, and a 4x4 drivetrain that makes it one of the best off-road choices on the market.
It doesn't have a ton of luxury or advanced technological features, but it's an outstanding off-road vehicle.
Sport S
The Sport S is a clear step up from the Sport trim level. It goes back to the 17" wheels, but you get an 8.4" screen with premium audio options, automatic headlights, heated power exterior mirrors, and power locks and windows.
There are also far more options available at this trim level, as you can add on LED headlights, safety and technological packages, and a sun and sound package.
Freedom
The Freedom is a unique trim level that's a clear step up from the Sport S. It includes LED headlights and fog lights standard, a steel front bumper, rock protection rails, and more. But one of the most prominent features of this trim level is all the unique badges.
The 2023 Jeep Wrangler includes a black American flag fender decal, an Oscar Mike badge, and even Oscar Mike-embossed leather seats for the interior.
Willys
The Willys is a bit different from the Sport S or the Freedom trim level, but it's a clear step up from the Willys Sport. The 32" mud-terrain tires are back, as is the Trac-Lok limited-slip rear differential.
But to help your off-road adventures further you get an Xtreme Recon Package, upgraded Rubicon shocks, rock rails, and LED headlamps and fog lamps.
Sport Altitude
The Sport Altitude trim level is an outstanding mix of comfort, luxury, and off-road ability. You get a vehicle with upgraded suspension components, but you also get Apple CarPlay, Android Auto, and a hardtop for a little more comfort and stability.
Rubicon
The Rubicon is another outstanding trim level for the off-road enthusiast. Standard features include a part-time rock-track system, an electronic sway bar disconnect, locking front and rear differentials, and steel rock rails.
But on the comfort side of things there's an available one-touch power top, an 8.4" touchscreen with navigation, and so much more.
Sahara
With 18" wheels instead of the 17" wheels that came with previous models, the Sahara offers a little more versatility. There are also plenty of great features available at this trim level, including an optional one-touch power top, available vinyl-trimmed seats, and an available safety group.
While the Sahara is still great off-road, it's a little more luxury and comfort for those that don't want to go too far off the pavement.
Sport RHD
With a black freedom top hardtop, deep-tinted glass, and all-terrain tires, there's no doubt that the Sport RHD has a unique exterior appearance that we're sure you'll love. You also get heated power mirrors, power windows and door locks, and a remote keyless entry system.
Sahara Altitude
The Sahara Altitude is all about an extra level of comfort and luxury compared to other trim levels. The Sahara Altitude comes with a premium Alpine audio system, 4G LTE Wi-Fi hotspot capabilities, remote USB ports and so much more.
Of course, there are still plenty of premium off-road features that make the Sahara Altitude far more versatile than most other non-Jeep Wrangler vehicles.
High Altitude
While the High Altitude isn't quite the top trim level for the 2023 Jeep Wrangler, it's close. The most noticeable difference between the High Altitude and the Rubicon 392 is that the High Altitude has the typical Jeep Wrangler engine options available.
Still, the High Altitude has a Nappa leather-trimmed interior, 20" wheels, a premium LED lighting package, blind-spot monitoring, park sense, a leather-wrapped instrument panel bezel, and so much more. The 2023 Jeep Wrangler High Altitude is comfort and style without sacrificing that signature Jeep Wrangler appearance.
Rubicon 392
The Rubicon 392 is the king of the Jeep Wrangler. Not only is it the top trim level, but it's the only trim level that offers the 6.4L HEMI V8 engine. This engine pushes 470 horsepower and 470 lb-ft of torque.
But not only does the Rubicon 392 have a great engine under the hood, but there's a hydro glide air induction system, a dual exhaust system, an electronic sway bar disconnect, locking front and rear differentials, and black leather-trimmed seats.
It's already a monster off-road, but if you want even more you can opt for the Xtreme Recon Package which includes 35" tires. The 2023 Jeep Wrangler Rubicon 392 is comfort, off-road ability, and luxury, all wrapped up into one Jeep Wrangler.
Final Thoughts
Do you know what Jeep Wrangler you want or do you have questions about whether a particular trim level is right for you? The team at Bournival Jeep would love to point you in the right direction. Whether it's simple questions about the Wrangler or if you're ready to get behind the wheel of your own, reach out and they'll gladly help you out!
View Jeep Wrangler Inventory